From The Blog Series… 365 Blogs To Finding Pinocchio A Home
Last night I had the pleasure of attending an inspiring NSAI event with my songwriting partner, Jason Waters, at Five Towns College with Grammy Award Winning Songwriter, Jon Vezner , as the Guest Speaker.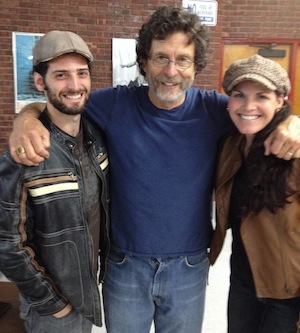 Jason Waters, Jon Vezner & Jennifer Vazquez 
What a pure joy it was to listen to Jon's well constructed and heartfelt tunes. There is nothing that gets me higher than experiencing a GREAT songwriter, up, close and personal. And, sitting in on that Master Class provided both Jason and myself with key reminders for what tools and rules allow for the creation of a GREAT SONG! (Be sure to check out Jon Vezner when you get a chance. He is not only a great songwriter, artist and musician, but a solid person all around. And while you're at it, check out his musical partner Jeff Gilkinson! Wow, what a player and songwriter!)
Here's some reminders for ALL you songwriters out there:
 ~ TO BE EFFECTIVE as a songwriter, CREATE TENSION in the song, either in the Melody, the Tempo or the Lyric.
 ~ EVERY LINE of your song must act as an ACCELERATER for the next one.
 ~ SHOW IT! DON'T TELL IT!
~ BE SIMPLE: Say EXACTLY what you mean.
~ FIND the POCKET of the SONG. This will MAKE or BREAK the tune!
~ GIVE the BRIDGE a REASON TO BE THERE or LEAVE IT OUT!
~ STAY IN THE MOMENT OF THE SONG and STEAR CLEAR OF THE RESULTS.
Anyway, last night was just what the doctor ordered! And, the timing couldn't have been any better. Jason and I are now forging forward after completing our first East Coast Summer Tour. What does this mean? Well, it means we are in writing sessions until further notice to create a handful of GREAT TUNES for our debut EP to come!
It's a gift to find a songwriting partner who is on the same page with you, as well as one who brings something new and fresh to the table, allowing me to do the same, without hesitation. That allows for authentic solid creations to occur. From all we have experienced thus far on our journey, we are finding that the songs that are forming are definitely defining who "Stilettos-n-Steel" truly is! I can't wait to share these tunes with you all!