Yes! The music video for my single, "Getting Out Of My Own Way", (Lyrics and Music by Jennifer Vazquez / Song produced by Ron Zabrocki) was shot on October 8th. I couldn't have asked for a better team. What a priceless experience!
So, before I share some fun pictures of the whole crew, just a little reminder. Be sure to check your HBO GO – HBO ON DEMAND – HBO LATINO – HBO COMEDY & HBO FAMILY listings for "Sleeping With the Fishes" written and directed by Nicole Gomez Fisher, where you'll hear "Getting Out Of My Own Way" in its entirety at the end title crawl! And let's not forget that the main character in "Fishes" is the lovely and talented Gina Rodriguez , who is coming to The CW on October 13th as "Jane The Virgin". Anyway, I highly recommend you see "Sleeping With The Fishes" on HBO. It's a true gem. Like Gina Rodriguez says in her recent interview with Fox News Latino, "I feel that 'Sleeping with the Fishes' and 'Jane the Virgin' get it right by simply telling a story that doesn't hit you over the head with one thing or another."
So… After a VERY long day's work… The Video's Been Shot!
And now that is has… we're going into the editing portion of it. I'll keep you posted on the progress of it all, so stay tuned… In the meantime… let's introduce you to my fabulous crew…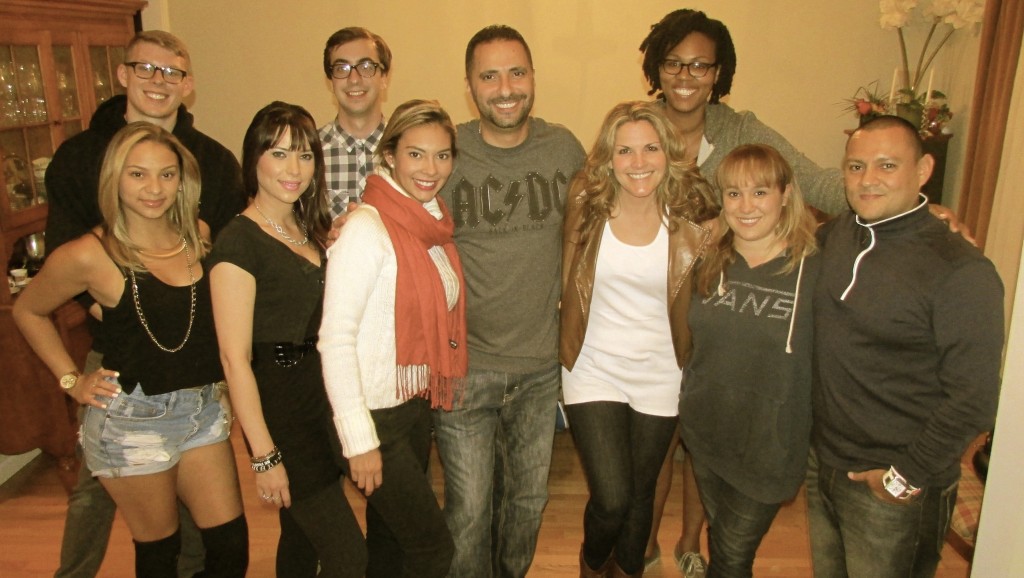 Upper left to right: Joey Gherardi (Gaffer), Rob Levy (Cinematographer /Editor), Neem Basha (Director, Writer, Producer) , Heather Adams (Production Assistant)
Lower left to right: Suzette Rodriguez (Hairstylist), Christine Cirillo (Make-Up Artist) , Paola Catano (Production Assistant),  Jennifer Vazquez  (Songwriter, Musician, Artist, Co-Producer), Nicole Gomez Fisher (Director), Oscar G. Amaya (Producer, Unit Production Manager) 
A Couple of Eureka Moments…
The experience of working with two directors is a new experience for me and I learned quite a bit from both Nicole and Neem. It's great to combine a few ideas into one concept and then agree on one solid idea so the story which unfolds is both clear and mysterious. I can't wait for you to see the video. We have created something truly worth sharing that will touch you!
What About Wardrobe?
Meet the lovely Arianna Rodriguez, my costume supervisor. Oh, we had a blast shopping for the shoot and I'd say in what little time we had, we bonded very quickly!